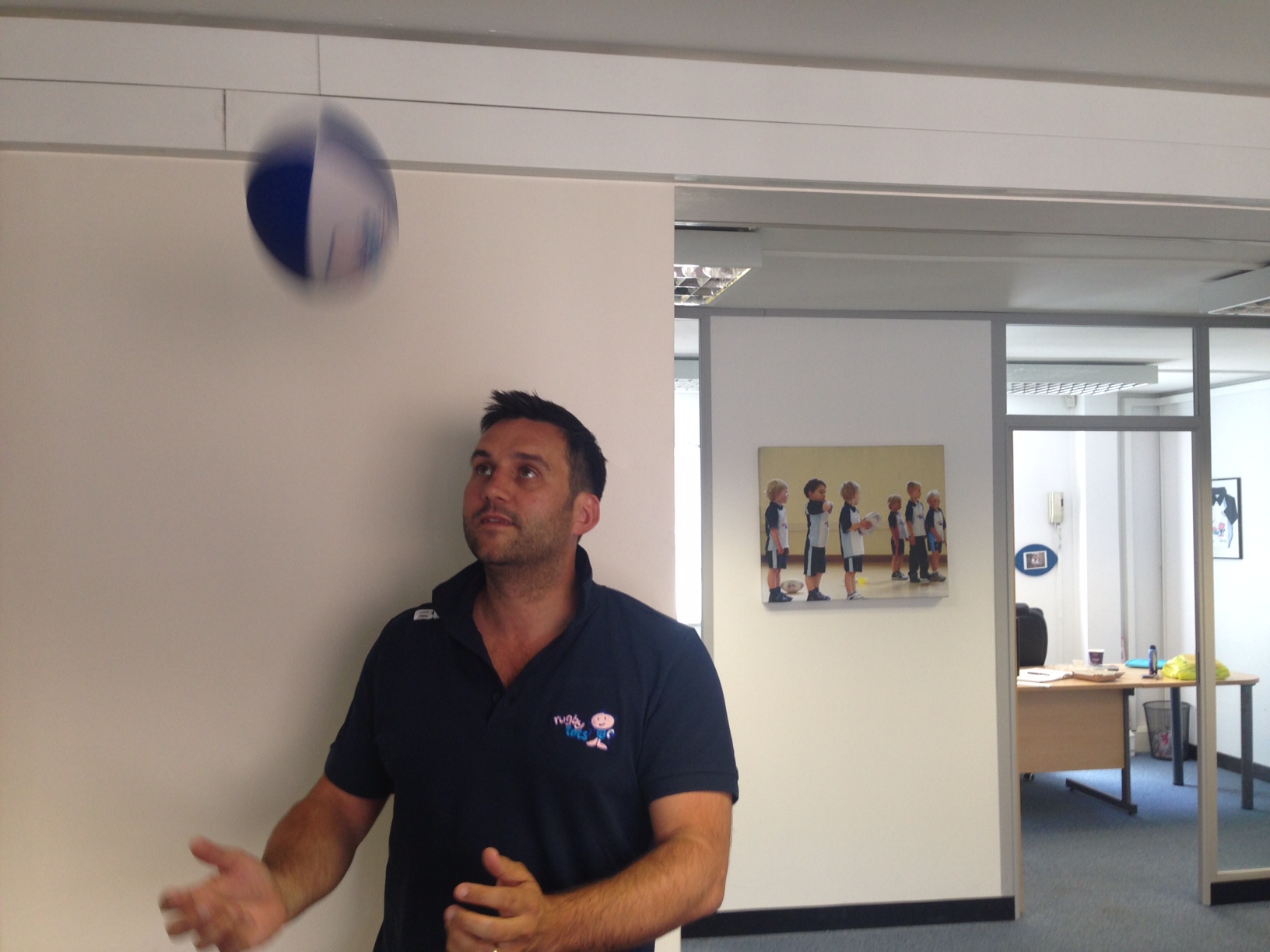 At long last I have buckled under the pressure. Our developers have asked "do you have a Blog that we can kick off the new blog site with". I think in truth they knew the answer but had to ask. So, here it is, the launch of our Blog site, written by me, the Founder and MD of Rugbytots.
This year marks our ten-year anniversary, I cannot believe that Rugbytots, started as fun in the park for my three boys, is now operating in 16 countries around the world. We have in excess of 65,000 children enjoying our fun, fast-paced rugby classes each week and the number keeps on rising.
"Rugby for little kids, rugby for toddlers, little kids rugby activities, tots and toddlers Rugby sessions……you must be mad", I heard from many people back in 2006.
I have learnt many lessons along the way and so far, it has been an exciting journey. I am often asked why we have been successful. You cannot ignore the fact that early investment from my other business, a successful telecoms company, enabled us to grow quickly without any issues. Many small business's become a victim of their own success and my vision for Rugbytots was far reaching so we had to invest in the foundations to make it possible and ensure we could cope with the growth.
This is only one small element. One of the major reasons our business has grown so quickly is because of the people. We have the most incredible, passionate, hard-working franchisees, coaches and head office team who all understand the importance of running top quality classes, delivering first class customer service and share my passion and vision for Rugbytots. Without them Rugbytots would be nothing but an idea….an idea that many thought was stupid in the first place.
When i first started Rugbytots, I was determined that the classes would be different to the kids football, karate classes and toddler music activities I had experienced.
I wanted total engagement, I wanted excited children, I wanted parents on the edge of their seats, I wanted to see children light up by the atmosphere created, I wanted coaches who understood the age of the children, I wanted everyone in the class to have no excuse to go for their phones and I wanted everyone involved. I think its fair to say this ethos still runs through every part of the business today and what better way for a parent to spend 40 mins, watching and engaging with their child having fun.
We are told by parents that the positive, energetic and engaging atmosphere we create in our classes is unrivalled and genuinely builds confidence and self esteem in their children. I believe when you find coaches who can deliver classes with these attributes and then you combine this approach with over 450 unique Rugbytots games, structured to ensure the correct balance of variety and regularity, it is a winning combination. Really, this is the most important aspect of running our business……Uh Oh…..doesn't it sound like a cliche?  "its all about the kids" well guess what; it really is! The enjoyment and fun experienced by the children is absolutely paramount and when parents provide these positive comments it constantly drives us to innovate and improve the experience.
We are all huge Rugby fans and rugby players (in most cases ex-players!) and everyone involved with Rugbytots has an overriding passion for the game and what it can offer young people. We try not to get too carried away with creating the next Jonny Wilkinson, Owen Farrell or Martin Johnson (for the forwards among us!) because we are not a technical rugby coaching organisation, although we do gently introduce the basics and our coaches are fully qualified rugby coaches. Rugbytots parents will be well used to hearing the coaches ask "how many hands do we hold the ball with" or "what do we call the side lines" – the side lines are of course "evil" and we must try and avoid them at all costs!
Rugbytots is a rugby play programme designed to introduce children to rugby in a safe, non-contact environment and whilst it's fair to say most of our Rugbytots go on to play tag rugby as part of Mini rugby at their local clubs, our aim is to build confidence, build self-esteem and help them along the way with some basic skills that will benefit any sports or activities they may choose to do when they move on. Our extensive programme ensures we do this and its pleasing to hear so much positive feedback from mini-rugby coaches up and down the land who see the benefits when their new influx of Under 7's arrive.
Luckily the toddler kids' activity market isn't too cut throat, although it's sometimes interesting to hear some people's take on our business. We occasionally see local Rugby clubs commenting on our social media posts and passionately talking about their clubs but in the process feeling the need to be somewhat derogatory about what we do, like we are in some way taking the life blood from local rugby clubs. I see it quite the other way, all our coaches are qualified and trained, classes are inside (apart from the summer terms) using adapted foam equipment and class sizes are limited to 12. Our aim is to build an enthusiasm for the egg-shaped ball and send them off to clubs well prepared. To be fair, 98% of local rugby clubs support Rugbytots and we have some cracking relationships with rugby clubs all over the UK.
Then we have the challenges from copycat competitors, a huge compliment of course and sometimes a great way for us to spot any spelling mistakes on our website, why would you bother wasting time with your own content when you can use the cut and paste function!!
I think competition in any environment is essential and we welcome it. I do draw the line at people ripping stickers off our cars and piggy backing on to social media posts to be defamatory about our business. BUT as I say to our franchisees who experience this awful behaviour – anyone who feels the need to take down one of our posters, rip off a car sticker or be slanderous in public must really be struggling to compete with the quality of our classes so let them get on with it.
In 10 year's I have not once felt the need to slander anyone publicly or be offensive in anyway – I have however been ferociously focused and determined that we will have the best programme in the world. And that is how I spend my time, improving OUR offering, not worrying about anyone else's.
Max Webb
This entry was posted on 18th May 2017.