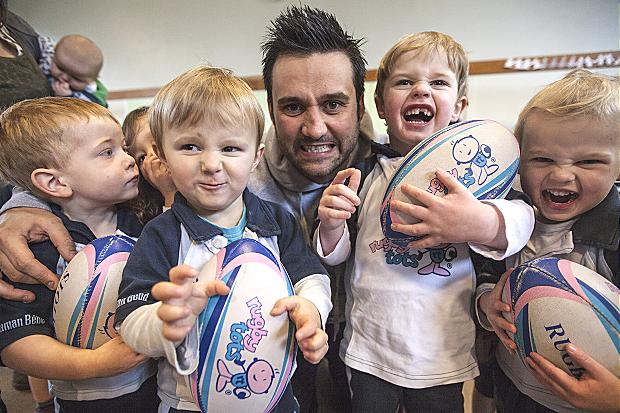 How to pick up the new business ball and run with it – Dominic Walsh
December 31 2012, 12:01am,TIMES PHOTOGRAPHER, RICHARD POHLE
Max Webb and some of his thousands of "rugby tots", who have helped him to develop his business far from its Surrey roots
Max Webb and some of his thousands of "rugby tots", who have helped him to develop his business far from its Surrey roots
Max Webb was playing in the park with his three sons and a few other dads when he got the idea for a pre-school play programme based on rugby. Six years on, his Reigate-based Rugbytots has become a multimillion-pound international franchise.
Mr Webb, who at the time was running his own telecoms business, knew immediately that he was on to something. "I had three boys under three and when I was chatting to the other dads we remarked on how there was no rugby for our boys to play, yet they could do football, karate, cooking and all sorts of other things. I couldn't believe it."
When it quickly became clear there were no rugby equivalents to established football programmes such as Little Kickers and SoccaTots, "I decided to start something the following week for friends and within three or four weeks we had twenty-five kids in the park. I realised there was a market."
Mr Webb, 35, "threw the kitchen sink at it. The joke was I used to go to work dressed in my pinstripe suit then later I'd go into the toilet, change into my rugby kit, go to the common, run around with a load of kids for an hour, then go back to the office. It was bizarre, but we had to prove that we could make it work in the Reigate area to prove it could be a sustainable business in its own right."
Early developments included the brand, colour schemes for the kit and a robust and easy-to-use website on which parents could book classes, but the move into franchising came very early on "by default". Mr Webb got a phone call from someone keen to start a similar concept in Scotland. "They bought into the vision and within a month they were running it up in Edinburgh. Immediately it gave us a national feel and it just snowballed from there. Slowly but surely it became clear my other business was no longer my future." Vantage Communications, a reseller of fixed-line and data communications, was sold to Peach Telecom just over a year ago for an undisclosed price and now Mr Webb devotes all his energy to Rugbytots.
Turnover this year, including franchises, was £2.2 million and for 2014 it is forecast to hit £5 million, of which about £2 million will be from directly run operations.
In the UK, via a mix of directly run operations and 31 franchises, the group runs about 1,000 classes a week for 12,000 children, overseen by about 350 coaches. Overseas, it has signed up franchisees in Spain, Ireland, Italy, South Africa, Australia, France and Canada and is in talks with potential partners in New Zealand, Hong Kong, Singapore and the Middle East. The franchisees include former lawyers, accountants, PE teachers and the former Scotland rugby internationals Budge Pountney and Sean Lamont.
The classes cost between £6 and £7.50 a session per child. There is also a one-off registration fee, for which the children — boys and girls — get a shirt, shorts, water bottle and vouchers for commercial partners including JoJo Maman Bébé.
Mr Webb has also dabbled in a kids' golf concept and toyed with the idea of developing an Aussie Rules football version, to no avail. "It made me realise I need to stick to what I know. Given the growth potential we still have, we don't need to go into anything else."
This entry was posted on 28th June 2017.