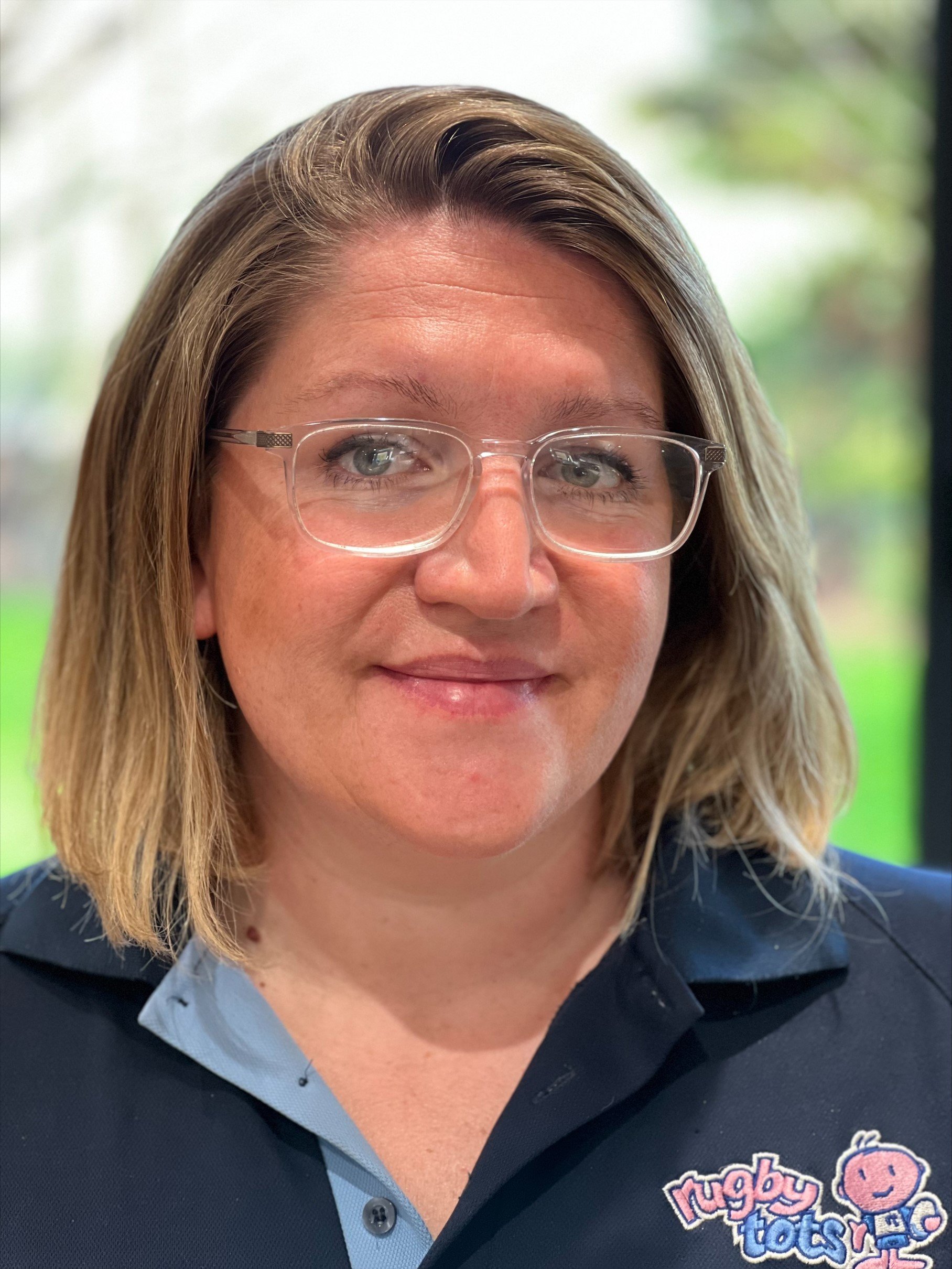 We caught up with one of our franchisees, Meg, who owns Rugbytots Central Cambridgeshire, to find out what it's really like being a female Rugbytots franchisee.
How did it all start?
"Hi, my name is Meg and my franchise is Central Cambridgeshire. I am married to James, who runs a large family farm in Fenland. We have a daughter, who is 6 and full of energy! She is kind and thoughtful but a force too! She is the whole reason why I bought the franchise. Let me explain….
I had been training as a rower around teaching Physical Education full time in London, when I had a realisation what I would have to miss out on (weddings, birthdays etc) if rowing was going to continue at the level I desired. Being the best at rowing didn't mean enough to me to miss these important events. So I got a job in Ely as a PE Teacher and decided to move to Cambridge as my great friend had a spare room and my brother (and now sister in law) and lots of friends lived there, so seemed the obvious best location.
A few years passed and I got married to James and I accepted the job as Head of Physical Education in a school in Peterborough. I fell pregnant and Rosie came along with quite the entrance! I started back at work within the year, however, since her birth I had been in a lot of pain with my pelvis. The medics had thought it was just due to having a C-section. However, I was completely debilitated and would finish most days in tears in pain whilst trying to hobble around school. After lots of examinations, scans and bed rest, it seemed that they had not detected my pelvis had an inch separating and one side had twisted. It was completely unstable.
I tried a few times to return to work, but it was agony and I just couldn't face teaching Rugby on a mobility scooter for the rest of my life! So after 10 years of teaching a subject I loved, I handed in my notice. So I had to think long and hard as to what could my skill set lend itself to whilst I give my body the time to recover…. however, completely organically, I was also looking into Rugbytots for my daughter to start and saw that franchise opportunities were available…. so I just thought I would enquire….
What was the process like signing up? Did you have any concerns?
I had a few chats with Max over the phone and everything seemed so straight forward. He was easy to talk to and any questions I had were easily answered. Things snowballed from there and it just didn't seem daunting! I felt completely supported from the equipment provided, to communication with Max, advice and support with how to run a business, to the team at Head Office. Nothing felt too much and they all wanted to see the launch succeed- which of course they would, it is their business, but it felt more than that. I knew that my skill set and my passion for getting any children involved in sport could make this business work.
What's your Rugbytots journey been like so far?
I will have owned Rugbytots Central Cambridgeshire for 5 years in April 2022.
Year 1
The first year was sheer graft and adrenaline! I was happy to graft but the learning curve of running a business was steep and thanks to Head Office and also my father, who to be honest, took a lot of the calls that I was too embarrassed to call Head Office with, like "Dad, what is the difference between gross and net profit?" that is how much of a novice I was (and still am!) in business. The practical side came very naturally to me and I focused on building a small team of coaches. I was able to coach three classes on a Saturday, however, I would still need to rest the remainder of the day as I would be in so much pain. As my pelvis stabilised, I could do more practical coaching.
Year 2 and 3
I was growing in venues and coaches but found that some coaches let me down, which made for a lot of headaches and sleepless nights. The support from other franchise owners came invaluable at that point, getting to know your area neighbours and be able to 'talk shop' was a lifeline, even if it is just to get reassurance that you are doing the right things! I was also surprised that with a bit of organisation, I could structure classes around family life. I have had a lot of support from my parents and parents in law with our daughter on a Saturday morning as I am normally at classes or visiting venues and my husband is working on our farm. If there was a parents evening, I could be there. If there was sports day, I could watch my daughter do her first race. She is very tall, she looked like a stampeding giraffe, all arms and legs! She fell, she got up and carried on until the end. I couldn't have been more proud and so glad I didn't miss it.
Year 4.
WHAT. A. YEAR. I am not naïve enough to compare closing my business down due to a global pandemic to being as tragic as the millions losing their lives to this horrific virus. But what I learned is that the business model that Max has created can actually cope with a global pandemic. Yes there will be cuts to be made, but the support that the Head Office team gave was incredible during this time. I simply couldn't fault them. Yes I was incredibly nervous (I still am) on how this will all pan out, but I believe in Rugbytots. I believe in what we try to create in classes, and that it matters. In terms of my business, my team of coaches are amazing. When they apply for the position online, I ring them up and each one gets absolutely grilled on the phone. If that didn't put them off, during their practical interview they have to put on a golden globe worthy performance doing any animal impersonation. The range I have seen has been phenomenal. But what it shows me is the type of person they are, do they love seeing children have fun, not afraid to be a bit silly and also how creative they can be. I really like my current team of coaches, they have been nothing short of amazing this year.
As I grew up, amongst other sports, I played rugby and as I was going through the school years, someone asked me what I would like to have as a job. I replied 'I would like to be a rugby coach and be the first woman to coach the England Rugby Team'. Now I may not be directly coaching the England Rugby Team, but I am a rugby coach and I hope the team of coaches and I are maybe coaching a future England player.
But what I am MOST proud of is the things I see weekly from our Rugbytotters. Trying new things, exploring, dare I say sometimes failing, trying again, succeeding, making friends, enjoying activities, running around laughing. Having fun.
Developing confidence. Growing their smiles. This is why we do what we do!"
Thanks so much for sharing your story Meg!
If you'd like to find out more about becoming a Rugbytots Franchisee, contact us here
This entry was posted on 24th February 2022.