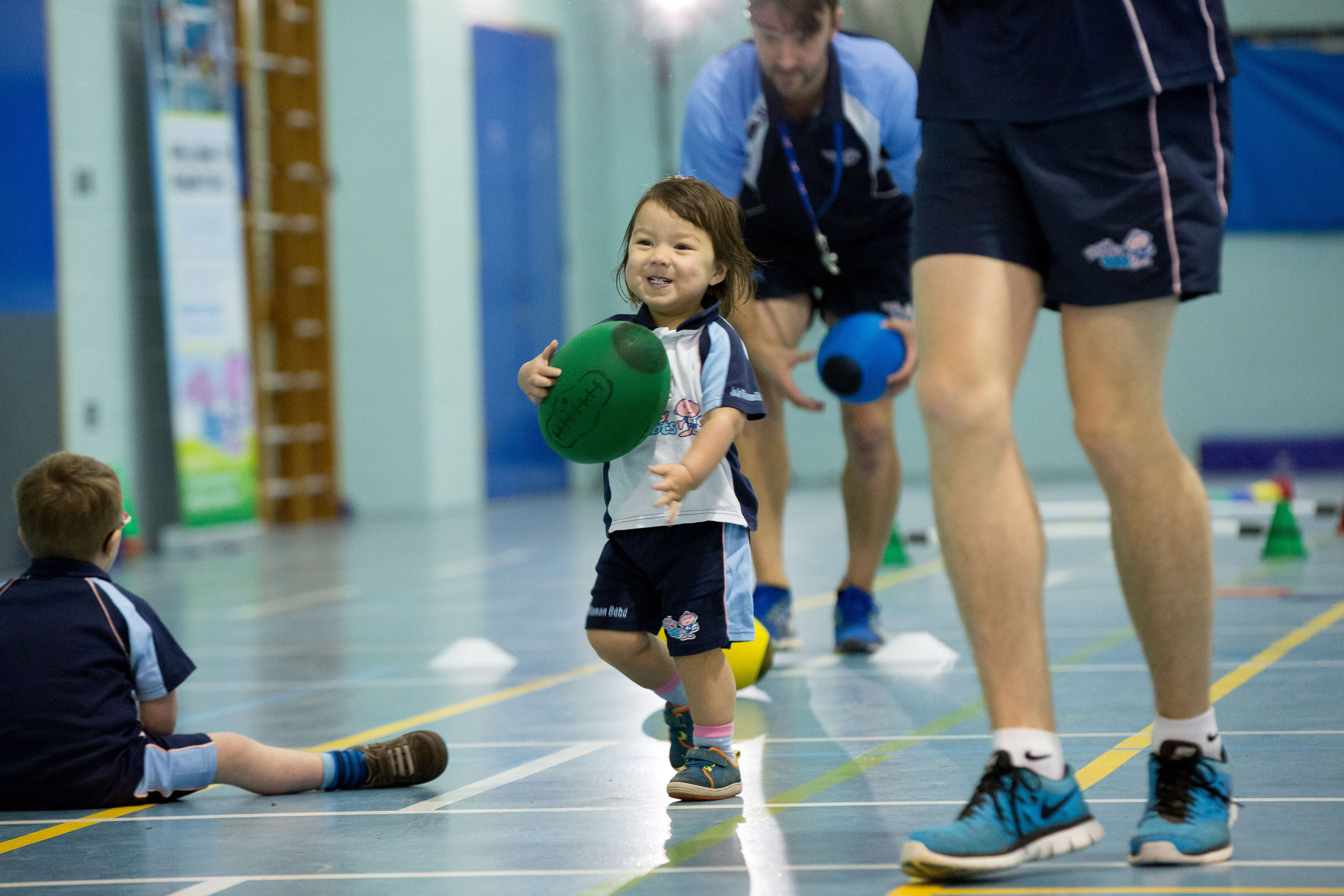 Its a really interesting topic; how Rugbytots classes increase a child's social skills through group activities.
Young children are learning and developing quickly. They are constantly experimenting and starting to get a sense of their own identity. There is plenty of evidence to prove organised classes for toddlers and older children help develop learning in an informal setting and learning through play whilst having fun helps build self-esteem and gives young children a sense of their own ability and self-worth.
There are lots of group activities for 2 to 7 year old out there today but how many really focus on the magical mix of social and physical development. At Rugbytots all of our children learn and develop physical attributes through our group activities. Running, kicking, jumping, passing, catching, balance, co-ordination, agility are just some of the core skills we cover in our play programme. Equally as important is the learning process involved with developing social skills in a group environment. Not something that can be done overnight.
What are social skills?
We all use a variety of social skills any time we interact. The development of these skills in typically developing children starts early in life and happens over a number of years, generally without a lot of direct instruction. A child who plays on their own is not being asked to use their social skills, which is why many children on the autism spectrum retreat to solitary play – it is uncomplicated and they don't make mistakes. Social skills are:
conversational skills (greetings, joining a conversation, verbal turn-taking, listening skills, talking about a particular topic, awareness of personal space, ending a conversation)
play skills (observational skills, joining play, turn-taking, sharing, compromising, conflict resolution, coping with 'no', coping with losing, reciprocal play, ending play)
understanding emotions (reading facial expressions, reading body language, voice quality – intonation, pitch, speed, awareness of own body language, having a large emotional vocabulary eg not just happy/sad, anger management and self-regulation skills)
dealing with conflict (anger management and self-regulation skills, communication skills such as the ability to ask for help, ability to walk away from a stressful situation, being assertive but not aggressive.
friendship skills (knowing what a friend is, and being able to choose appropriate friends, recognise true friends, develop the ability to share a friend, deal with peer pressure).
The important thing to realise is that not all children at the same time will need the same level of help developing social skills. Some will take more naturally to a group environment than others. This is perfectly natural and all part of a child's learning journey.
Rugbytots is very much a team environment and through a series of specifically designed, fun, dynamic and structured games it is our aim to aid in the social development of young children as they start their exciting journey.
A couple of our latest reviews:
My son has been going to Rugbytots for about 10 months. He looks forward to going every week and seeing his coach and friends. He has gained confidence immensely in not only the skill but also in his own self. He has learned to listen and follow instructions which has helped at home as well as in the hall. Maxine, his coach knows just how to handle a load of kids….getting them engaged, praising them and being an all round great role model
My son is excited every Sunday to go. He was very shy to begin with but he is like a different boy now, so full of confidence and joy. I couldn't praise the coach Paul highly enough he is amazing with the children. I've even noticed my husband is picking up parenting tips from him.
My 4 now 5 year old gets very silly and embarrassed in new environments, but everyone at rugby tots have been amazing and very helpful and patient with him. I was told to relax and give him time, what great advice! He is improving every week and enjoying it more and more thanks to all the brilliant staff. He comes away feeling a million dollars, in fact we all do. Can't recommend it enough xxx
Rugbytots does offer parents a genuine group activity for kids to develop social skills – as well as learning how to play rugby!!
This entry was posted on 1st August 2017.